Ok so here are the most awesome books ever! DONT ADD HARRY POTTER! >:)
The Hunger Games!
Edit
This book is so awesome that if you havnt read it then you are living under a rock, im not even kidding...
GO TO A BOOK STORE AND GET THIS BOOK NOW!
Catching Fire!
Edit
This book is the sequel to The Hunger Games, and it is EVEN more awesome in my opinion,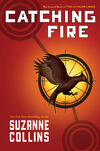 but you ALSO need to read this...
Mockingjay!
Edit
This is the sequel to Catchin Fire, it is a little depressing but it IS still the Hunger Games, so READ IT!
Ad blocker interference detected!
Wikia is a free-to-use site that makes money from advertising. We have a modified experience for viewers using ad blockers

Wikia is not accessible if you've made further modifications. Remove the custom ad blocker rule(s) and the page will load as expected.